What you need to know before traveling to Uganda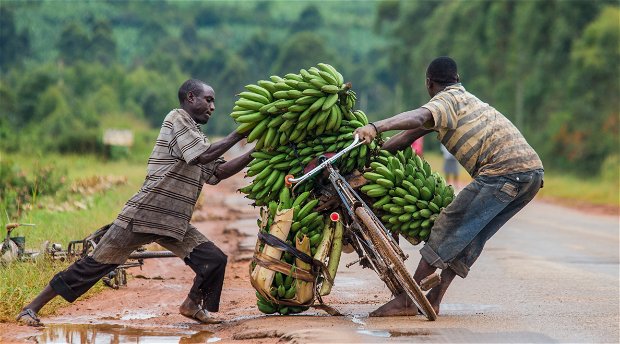 Your're planning on traveling to Uganda? Here are some things you should know.
General
Uganda offers extremely diverse aspects of nature (flora, fauna and landscape), which makes it very unique. This is why it carries the title: "The Pearl of Africa". Uganda's population currently (updated in 2020) sits at around 47 million people, on its 241.139km2. Only 24,3% of Uganda's inhabitants live in cities, whilst the rest live in towns or villages. The Capital of Uganda, Kampala, currently has an estimated 2 million inhabitants (updated in 2021). Uganda has over 50 different ethnic groups making it a multi-ethnic country, whilst also being one of the world's poorest countries.
Climate
Uganda lies on the Equator, thus enjoying a tropical climate all year round. The temperature is usually 15℃ to 27℃, although it differs as you travel further North. Uganda is separated into a dry season (± June to end September), a main-rain season (± mid March to mid May) and another less intense rainy season (± mid December to beginning of February). Keep in mind, that when it rains, it usually rains in small intervals with high-intensity showers and with climate change all over the world, changes are very possible.
Money
The currency is the Uganda Shilling (UGX).
USD = est. 3,582 UGX
EURO = est. 4,034 UGX
GBP = est. 4,793 UGX (updated in November 2021)
Credit cards and Debit cards are accepted in larger cities and hotels/ lodges; however, we do advise to carry cash with you wherever you go. Keep in mind that payments with credit cards have additional fees of between 3 and 5% of the cost price. The most important currencies can be exchanged at any bank or exchange office in the country. If you should carry cash along with you, we advise to also have some spare Dollars (US$) on you. DOLLARS MUST NOT BE OLDER THAN THE YEAR 2001, AS THEY WILL NOT BE ACCPETED! Bigger notes (US$50 or US$100) get slightly better exchange rates than smaller ones. With Credit or Bank cards you can also draw the local currency (UGX) from ATMs in cities/ larger towns by using your pin.
Getting there & Visa
All visitors require a Visa to enter Uganda. It is advised to do your registration for your Visa online (https://www.visas.immigration.go.ug). The requirements are: A passport valid at least 6 months after the planned return date, return/onward ticket, International health certificate (you may be requested to present a valid yellow fever vaccination certificate, depending on the country of departure). Be aware that the Visa requirements can change at any time!
Food & Drinks
Fresh food is accessible almost anywhere in Uganda. Tea, coffee and water is also easily available almost everywhere. Uganda also has a wide selection of beers that taste very different from one another. A famous local drink is "Uganda Waragi". It is made up of fermented bananas and is seen as the local gin. On your trip, you will mainly be served western food at your accommodations. However, if you would like to try local food, talk to your guide, he will make sure you get the freshest and most interesting delights.
Health
A certificate of yellow fever vaccination is COMPULSORY. The vaccination can be done at a tropical institute. Whilst there it is also advised to be briefed about Malaria and the medication used to prevent the Malaria virus from affecting you, as there are pros and cons to the medication (malaria prophylaxes). In the end, it is up to the traveller whether or not he/ or she takes the medication. We are not in a position to advise on this subject.
Covid-19 Entry Requirements
Please visit the link below for the latest updates on covid-19 entry requirements in Uganda.
https://www.health.go.ug/cause/update-on-the-response-to-covid-19-pandemic/
Security
Uganda and Rwanda are very safe countries for foreigners, however it is always advised to be aware, as there are criminals all over the world. Wearing expensive jewellery is not advised as it can attract unwanted attention. When visiting markets and other busy places it is advised to keep a close eye on your bags and pockets, as there could be "pickpocketers". This being said, it is also important to carry one's bag around, instead of leaving it in the car, even if it is locked. The contents of your wallets are also best kept to one's self, as flashing big notes and /or large quantities of notes can also attract unwanted attention.
Accommodation/ Electricity & Water
Some accommodations are located in national parks or are environmentally friendly and will thus not have constant power running. These accommodations use generators as a power source which are usually turned off during the day and later at night. However, in the mornings and evenings, these generators will be turned on, giving you enough time to charge your electrical devices. Some accommodations also only have warm water for showering and bathing in the evenings or mornings. In these cases, you will be informed by reception upon arrival.
What to wear
Day time temperatures are generally warm so bring light clothing. Evenings are cooler, especially at high altitudes, so carry a couple of light sweaters too. Those who intend to hike on the mountains will be exposed to alpine temperatures and should pack accordingly. Solid walking shoes and sturdy clothing are ideal for forest walks. Do not forget to bring a hat, sunglasses and water proof jacket. Some restaurants, those of a higher standard, require a certain etiquette (long pants & a shirt). Some accommodations also offer laundry services (at a price), which can always be requested for.
Also: If you should have any old or unwanted clothes that you wish to donate to the staff at lodges / hotels it would be much appreciated! The staff usually live in the surrounding area in a village or a town where the principles of "sharing with the community" is a key concept. So the donations would be equally distributed, starting with he/ or she who needs it the most.
Telephone & Internet
The majority of the accommodations will have internet available, even if it is just in main building. However, the internet speed is very slow and unreliable.
Driving
On a cross-country tour you will encounter very long drives. Even though the distance may not be far, the road quality in Uganda is quite poor, thus making it feel longer than it is. Some roads are filled with potholes, some larger than others, or the roads are gravel roads. This is why the drivers can't drive very fast.
Main Voltage
The main voltage is 240V, 50Hz. The adapter's used in Uganda are those following the British pattern (G Type). The can usually be borrowed from the accommodation at reception or be purchased for quite cheap in local supermarkets.
Tipping
Tipping is not standard practice at local hotels and restaurants, but will always be appreciated. Tourist-oriented restaurants, drivers and tour guides should always be tipped. The amount is completely up to the client and should meet the standard of the satisfaction given by the waiter/ waitress, driver and guide.
Time
Local time is GMT + 3 hours