Kibale National Park - primate paradise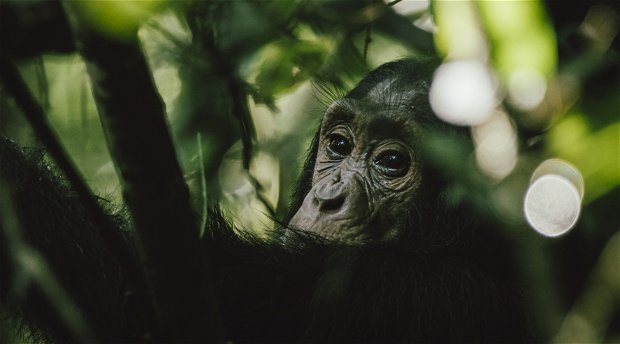 With 13 different primate species the park is definitely a primate paradise ( & a paradise for primate fans!).
The Kibale Forest National Park is located close to the tranquil Ndali-Kasenda crater area and within half a day's drive of the Queen Elizabeth, Rwenzori Mountains and Semuliki National Parks.
With 13 different species of primates, the park has the highest number (and diversity)of primates in East Africa. There are around 1450 chimpanzees living in Kibale and in addition to them it is home to the uncommon L'Hoest's monkeys, East Africa's biggest population of the endangered red colobus monkeys, the black & white colobus, red tailed monkeys, blue monkeys, olive baboons, grey cheeked mangabeys, bush babies as well as potto among many others. The chimps are normally heard before they are seen. If you are tracking them, you can usually spend up to an hour with them after locating them.
Most of the other wildlife in the park are barely seen. Next to buffaloes, leopards, bush pigs and duikers the park does even contain the largest population of forest elephants found in Uganda but they are rarely sighted. A keen viewer may also be able to spot some amphibians, reptiles and a variety of colorful butterflies. Plus, an estimated of 375 bird species live in the park.
Uganda's loveliest and most varied tracts of tropical forest can be found in Kibale National Park. The varied altitudes supports different types of habitat ranging from woodland and savanna on the rift valley floor to wet tropical forest on the Fort Portal plateau. The vegetation rises to over 55m and establishes a semi-closed canopy of massive stratified tree crowns. With shade tolerant herbs, a variety of ferns, shrubs and broad leaved forest grasses, the undergrowth is sparse. 351 tree species have been registered in the park.
There is plenty to do in the Kibale area: apart from Chimp Tracking you can go on forest hikes or birding.
The park is occupied by two tribes, the Batoora and the Bakiga and you can go on cultural tours which a led by local guides.
The Kasenda area found in Fort Portal is home to more than 50 different crater lakes which are surrounded by steep sided volcanoes. a visit to this picturesque are will give you an opportunity to appreciate the unique landscape of this area.
A highlight of the area is definitely the Bigodi Wetland Sanctuary which is located just outside the park. It is a community-run reserve which shows how tourism can and local communities can work hand in hand to benefit the environment. The nature walk in the swamp area offers amazing birding opportunities.